I'm absurdly delighted to return to LIVE SHOWS-!
Saturday 27th November: THE SINISTER CABARET returns to The All Good Bookshop. I'm proud to present a second evening of sounds, visions and surprises inspired by the original Cabaret Voltaire and other gatherings in times of upheaval of artists who still dare to dream. Including:
JUDE COWAN MONTAGUE 'vs.' BETTINA SCHROEDER
POPPY LIQUEUR
and more! Tickets here.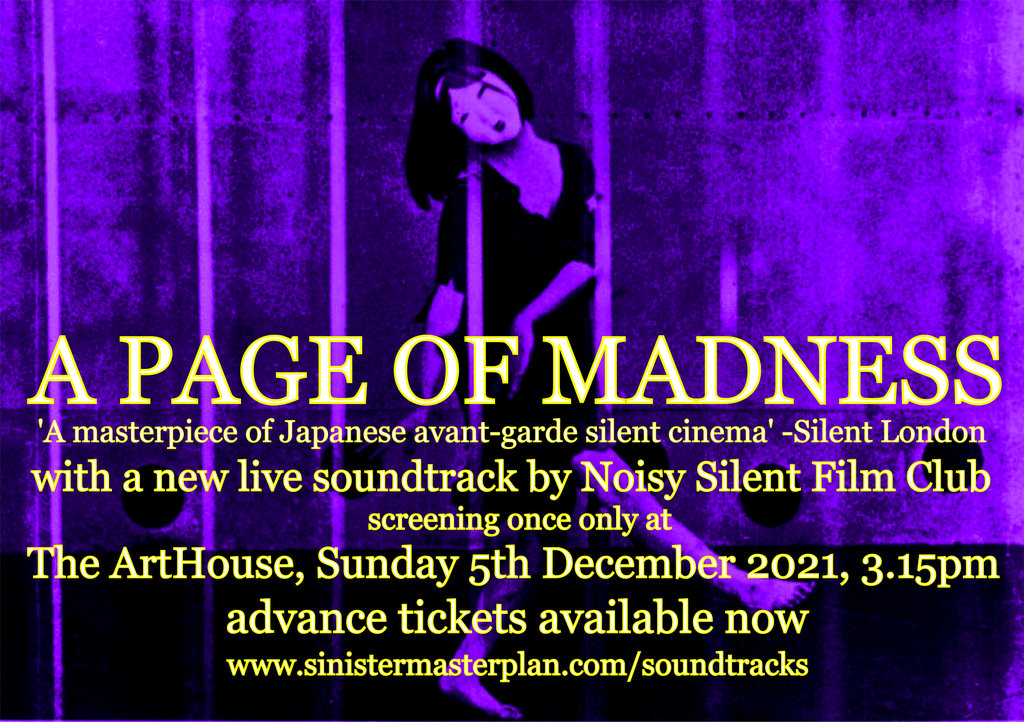 Sunday 5th December: A PAGE OF MADNESS at The ArtHouse Cinema. Ark and I are thrilled to bring our Noisy Silent Film Club project back to the ArtHouse to perform a new live soundtrack for a screening of this astonishing 1926 Japanese silent film. Tickets here.
Saturday 11th December: SKRONK #100 at New River Studios. I couldn't be happier to help celebrate the century of Rick Jensen's mighty SKRONKs, particularly as I'll be playing with Andy Page (aka raxil4) and Robin the Fog (aka Howlround) in what Rick describes as "a sexy electronic three-way." :DD Free.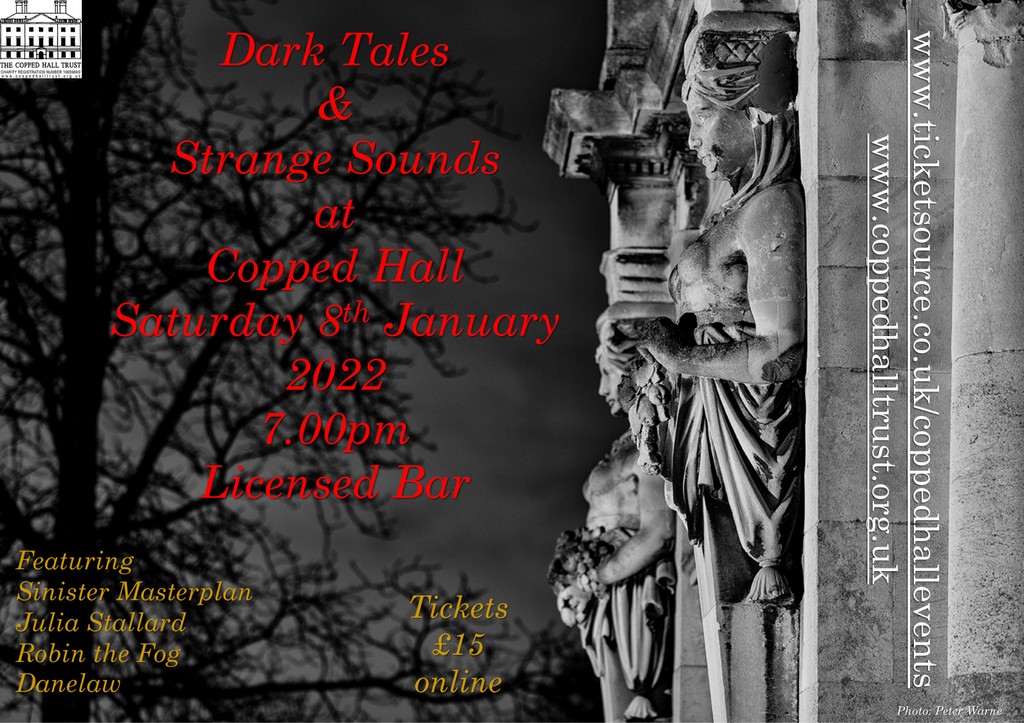 Saturday 8th January: DARK TALES AND STRANGE SOUNDS at Copped Hall. Laura Sampson and I are delighted to be taking part in a special evening of eerie audio and historical dramatisation in the glorious surroundings of Copped Hall, Epping under the masterful direction of Andy Popperwell . Roaring fires, spooky cellars, statues with watching eyes: this place has got the lot. Tickets available in advance only here.
Saturday 29th and Sunday 30th January: HIDE at VAULT Festival. Laura Sampson and I are excited / nervous / excited to announce that our brand new show of sound and storytelling featuring live art/animation by Andrea Aste has been given two slots at London's biggest fringe theatre festival! It's a major step for us and we hope you'll be there to cheer us on. Tickets now onsale here.
Meanwhile…
SINISTER MASTERPLAN is now on Bandcamp too.
There you can stream (or, hint, buy-?) current releases including two SHIVERS shows and now four of Noisy Silent Film Club's soundtracks.
I spent a lot of lockdown experimenting in combining sound with visuals I've filmed and/or edited myself. Here's one result, a kind of documentary made with and about The Invisible Salon: this is THE PLAGUE RITUAL. I'm delighted to announce that it was accepted to be screened at Audio Rocket sound art festival 2021 in Osaka, Japan!
For the very latest on what I'm up to watch this space or sign up to THE SINISTER LIST via the Contact Page.